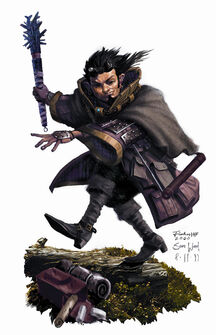 Also referred to as Minoi, are much less social than their Rock Gnome counterparts. They prefer to keep to their own communities and develop themselves mentally.
They have a natural curiosity for all things technological, and those found outside their communities are often found as engineers, mechanics or inventors. A few have even proven themselves as weapons experts - especially when it comes to taking out droids.
Tinker Gnomes are associated with the United Galactic Alliance.
+1 INT
+2 to Repair Checks
+4 to Craft (Mechanical) checks
Droidbane: +1 to attack rolls when against droids
Low Light Vision 60'
Racial Feats
Edit